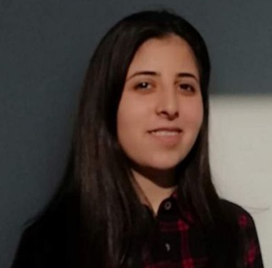 Tamara Hovhannisyan
I am Tamara, I am a computer programmer. I graduated from the Department of Applied Mathematics, YSU. I have been interested in ICT since childhood.
In 2013 I attended Girls in ICT Day Celebrationin the frame of which I was selected as a winner in the conest on Information Society awareness raising for filming the best short video and an active participant and Ambassador.
Gilrs in ICT Day is celebrated by Women and Information Society NGO in Armenia. It has been marked in Armenia since 2012 on the fourth month, fourth day, fourth day every year.
I have been engaged with Technovation Girls, Armenia more than 4 years as a coding module instructor and a mentor.
Currently I work for ANEL Robotics Laboratory within the National Engineering Laboratories.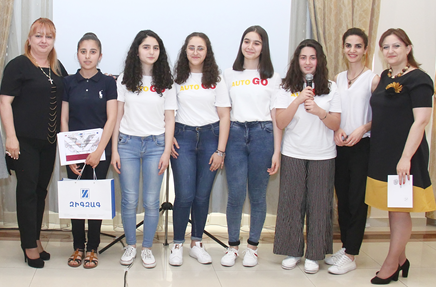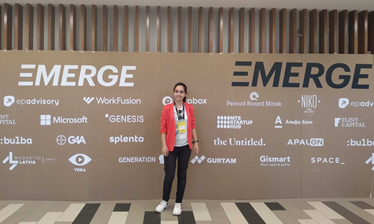 Tereza Tumanyan
I am Tereza, I am 17, I am a high schooler in Ashtarak, I am in the 12th grade. I am planning to pursue my carrer in IT, programing and entrepreneurship. Technovation Girls Program played a big role in my decision. When participating in Technovation Girls Program I gained better understanding of IT and significant skills for the future.
So, in 2017 Technovation Armenia program-competiton was first initiated in Armenia. With my classmates we formed Girls' Punch team under the mentorship of our informatics teacher (Narine Mesropyan) and particpated in the program. Within 12 weeks we gained knowledge on coding, entrepreneurship, marketing, and pitching. Simultaniously we started generating ideas and working on the mobile application. As a result, we created Safe Internet application which aims to help net addicted people. We won grand prize for the application in Technovation Armenia regional competition. This achievement boosted my interest further in IT.
After Technovation Armenia 2017 award ceremony I was selected Technovation Challenge program schoolgirls ambassador in Armenia.My main misson was to invite girls to participate in the program, get to know better IT and entrepreneurship. I had many meetings with girls in Ashtarak, then we formed 2 teams; Dream Team and Codice Puellis (I was one of the members of the team). I shared with the teams the knowledge and skills I had gained at Technovation Armenia and we generated 2 ideas; Dream Team developed Arm Tour application (for tourists to find revelant information about Armenia when travelling to our country) and Codice Puellis developed 1of U mobile application to help children with autism. 1ofU application won Technovation Armenia 2018 Grand Prize.
Encouraged by the success, we moved on improving the application and entered Sevan Startup Summit 2018 competition. More than 800 projects were introduced 100 out of which earned permission to participate in the event our team was among them. In 2018 Sevan Startup Summit was held. The participants had a chance to get to know more about startup ecosystem with local and foreign specialists. 1ofU application was praised highly and became EduTech (Education) nomination winner, the prize was $1500. The prize was doubled by Arthur Mikaelyan, AICA foundation president. We received $3000 and had a chance to imporve the application, it is in Google Play Store now.
The same application also became European Youth Award 2018 international competition finalist startups (9 startups were presented). I presented it in SEEDIG6 conference ,DigiTech expo 2019, EMERGE technology conference in Minsk.
in 2019- 2020 I became Startup Club participant which is organised by Startup Armenia foundation. In the frame of it I got deeper knowledge to develop a success startup. With 4 other participants, we developed Bright startup which is a digital platform for psychologists and therapists who work with children with communication problems. The platform offers digital tools to the therapist for sessions therapeutical sessions. On Startup Club DemoDay we introduced the idea and got a prize for participating in Beeline Startup Incubator. It gave us an opportunity to meet leading specialists in different sectors for expertise and support.
I atttended TUMO center, participated in "The Cleverest" TV game, debate republican phases, and Brainring competition and got a special prize. In school olympiads received diplomas for good performance in Russian and English. I got a nominal scholarship by the Minsitry of Education, Science, Culture and SpORT, RA. I am member of Hydralab team which is created to develop IT in regions.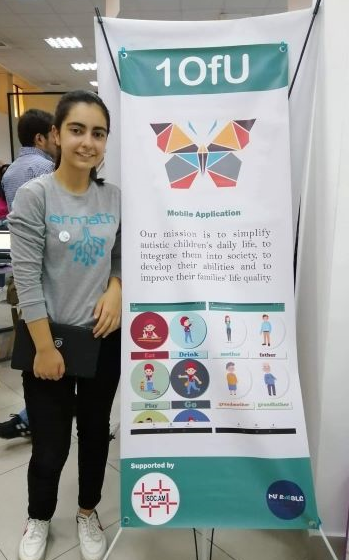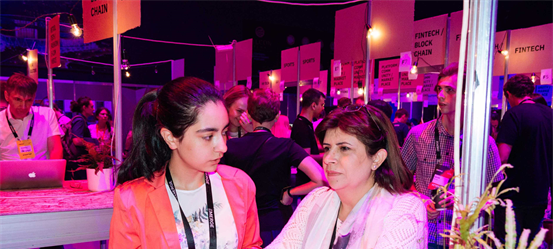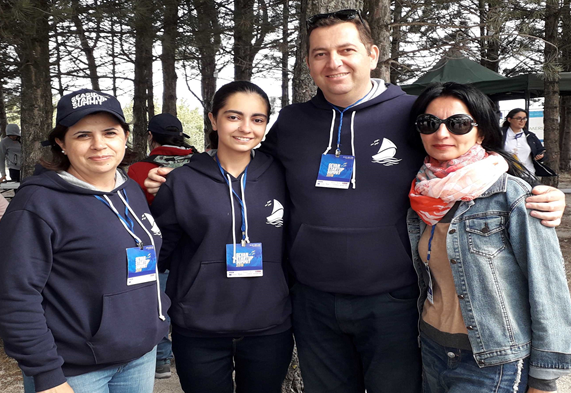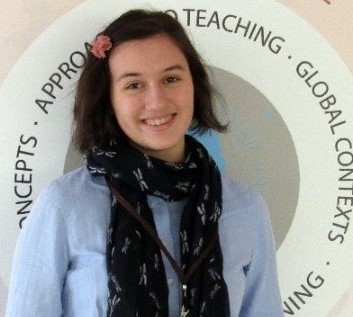 Ani Ter-Margaryan
I am Ani, Technovation Armenia participant. I left Anania Shirakatsy Lyceum. Participation in Technovation Girls, Armenia competition changed my life radically, I opened up a lot of things for myself. I realised how important it is to be technologically literate in our technologically rapidly developing and knowledge-based world. After the program in the frame our team (TechLadies) developed HASK mobile application to tackle waste management in Armenia I was selected to be the program Ambassador in Armenia. During the program I learnt to do team work, generate ideas and implement them.
I am glad to indicate that my team and I had a chance to participate in Girls in ICT celebration Day in Armenia, in Armenia. The event was impressive as it was a good chance to encourage and empower young girls.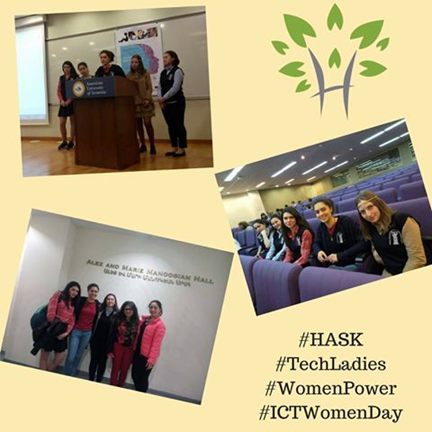 Technovation Armenia program has its role in my professioanl development. I continued my education in the US. Currently I live and study in the US and I do value my participation in the program.